How to Play Indian Sitar Rāgas on a Piano (2020 edition)
2nd edition – fully revised 2020 (first published 2016).

$23.99
Store: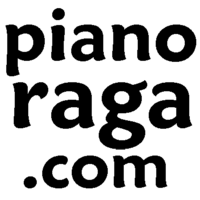 Intensely Pleasant Music
Description
2nd edition – fully revised 2020 (first published 2016).
Indian rāgas (or raags) have an extraordinary musical heritage dating back several centuries (from the area that is now India, Pakistan and Bangladesh) – a truly unique musical genre of fascinating melodic beauty and rhythmic intricacy – freely combining elaborate composed melodies with carefully rehearsed improvisation.This rich and intriguing music is traditionally performed on sitar – or instruments such as the sarangi, sarod, esraj or voice – and has previously been generally unavailable to pianists. But now the amazing world of Indian rāgas has been opened up in this sympathetic but thorough reinvention for piano solo (or duet or two pianos) by an award-winning British composer. This collection of 24 rāgas will be enjoyed by good amateur pianists through to virtuosic professionals. It is suitable for any pianist who enjoys discovering new music, or who has an interest in music from other cultures, or who knows the pleasure of jazz noodling and wants to explore a rewarding and fresh (but centuries-old) form of improvisation.

 This book contains:
•Sheet music for piano solo: a set of 24 rāgas, newly composed within a traditional rāga genre, one for each hour of night and day, sunset to sunset, encompassing a wide array of moods, and based on over twenty fascinating scales.
•Step by step instructions to play each of the pre-composed and improvised sections of Indian rāgas, written for pianists who are used to playing European classical music and jazz. This includes how to develop the melodic material in the improvised ālāp (with optional joṛ and jhālā sections), and the part composed part improvised slow, medium and fast gat sections, with optional jhālā to finish.
•Instructions to play any of these rāgas in a duet or at two pianos.
•Hundreds of musical examples.
•Accompanying audio & video examples can be accessed for free at pianoraga.com

The book has been fully revised in 2020, with improved explanations and definitions, spellings conformed to academic usage, corrected inclusion of the improvised joṛ section, inclusion of mohrā phrases in the ālāp, and a transcription of the intricate free-pulse rhythms in the first example ālāp video.
General Enquiries
There are no enquiries yet.